Arnhem
Arnhem is the green and bustling capital of the province of Gelderland. With a population of around 160,000, the city has plenty to offer. Whether you're into fashion or history, museums or pubs, concerts or nightclubs. And with its lovely green surroundings, you can also enjoy nature at its best.
Arnhem is known as a creative city. You can see that everywhere, but especially in Klarendal and Spijkerkwartier. These previously disadvantaged neighborhoods have been rejuvenated into lively areas with lovely houses and cosy restaurants. Fashion lovers are right at home in Arnhem. The city has its very own Fashion Quarter (the Modekwartier). Here you can find loads of boutique fashion stores. Want to relax after studying or shopping? Go to the 'Korenmarkt' or the 'Jansplein'. These are 2 popular market squares packed with pubs, cafes and restaurants. 
But Arnhem is not just for city dwellers. It's a very green city with lots of parks and gardens. In fact, HAN's Arnhem campus is located in the middle of a park. The city is also close to the spectacular Veluwe national park.
Finally, Arnhem is quite centrally located. It has excellent public transport connections to all over the country. You can be in Amsterdam in just over an hour!
Wondering what the vibe is like in Arnhem? Check it out!
Welcome to the colorful city center of Arnhem!
Shop till you drop. There are loads of interesting shops in the center of Arnhem.
Soak up the atmosphere at an outdoor cafe? There are plenty in Arnhem, for example on the Korenmarkt.
Traveling by train or bus? Arnhem central station will be a familiar stop.
This is what Arnhem central looks like from outside.
Relaxing outdoors in Sonsbeek Park.
Great view, right? This is the view of the city from Sonsbeek Park.
The cosy neighborhood of Klarendal.
Practical info about living in Arnhem
Student association ISA
Want to make the most our of your studies abroad? Join ISA (International Student Association) Arnhem. Get in touch with new people. Join fun activities. Make friends for life!
Student housing
What does it cost to rent a student room in Arnhem? Can HAN help me find a room? When should you start looking for a place? Find the answers to all of your questions on our Housing page.
Public transport in Arnhem
How do you get around town and campus? Where do you buy tickets for the train or bus? Read all about it on our public transport page.
Cost of Living
Moving to the Netherlands for your studies? Find out what it costs to study on our Cost of Living page. Including valuable tips and tricks to save money!
''A couple of months ago we drove to Den Haag. I forgot how tall these buildings can get! Being surrounded by all these concrete blocks felt a bit suffocating to me. But then in Arnhem, you walk outside and you see a park, you see lakes. It's a much nicer feeling.''
- Rosa (International Business student from Germany)
HAN Arnhem
The following bachelor and master programs are offered in Arnhem: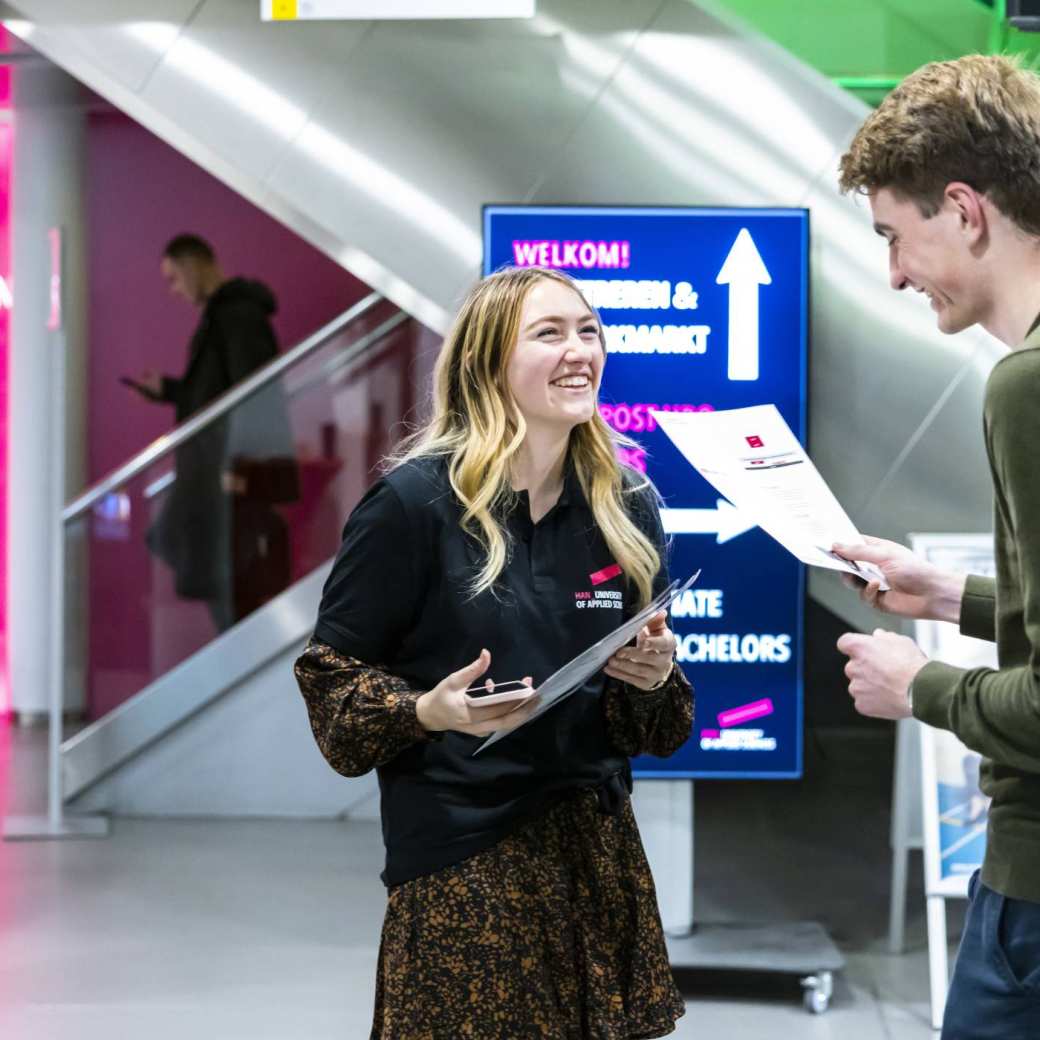 Online Open Day
The next Online Open Day is on 18 November. Want us to contact you when the registration opens? Just fill in the pre-registration form and we'll keep you posted! Want a sneak peek? Watch the recordings of our previous Online Open Day in March.  
draw-cta-title