Apply now

The program starts once a year
More information...

Brochure, helpdesk
Meet us

Activities, Student for a day etc.
Program
The program for Embedded Systems Engineering is technology driven. You learn to keep up with the latest developments. And equally important: you put it into practice. From the very start of the program. So when you graduate you're an engineer with the right experience.
Embedded Systems Engineering: program in brief
This degree program trains you to become an embedded systems engineer. You get all the fundamental theories. Then you put them into practice in projects. Real-life engineering projects that solve actual issues in the professional field.
Throughout your studies, you work with your classmates in project teams. You also get the chance to work with professionals from the field.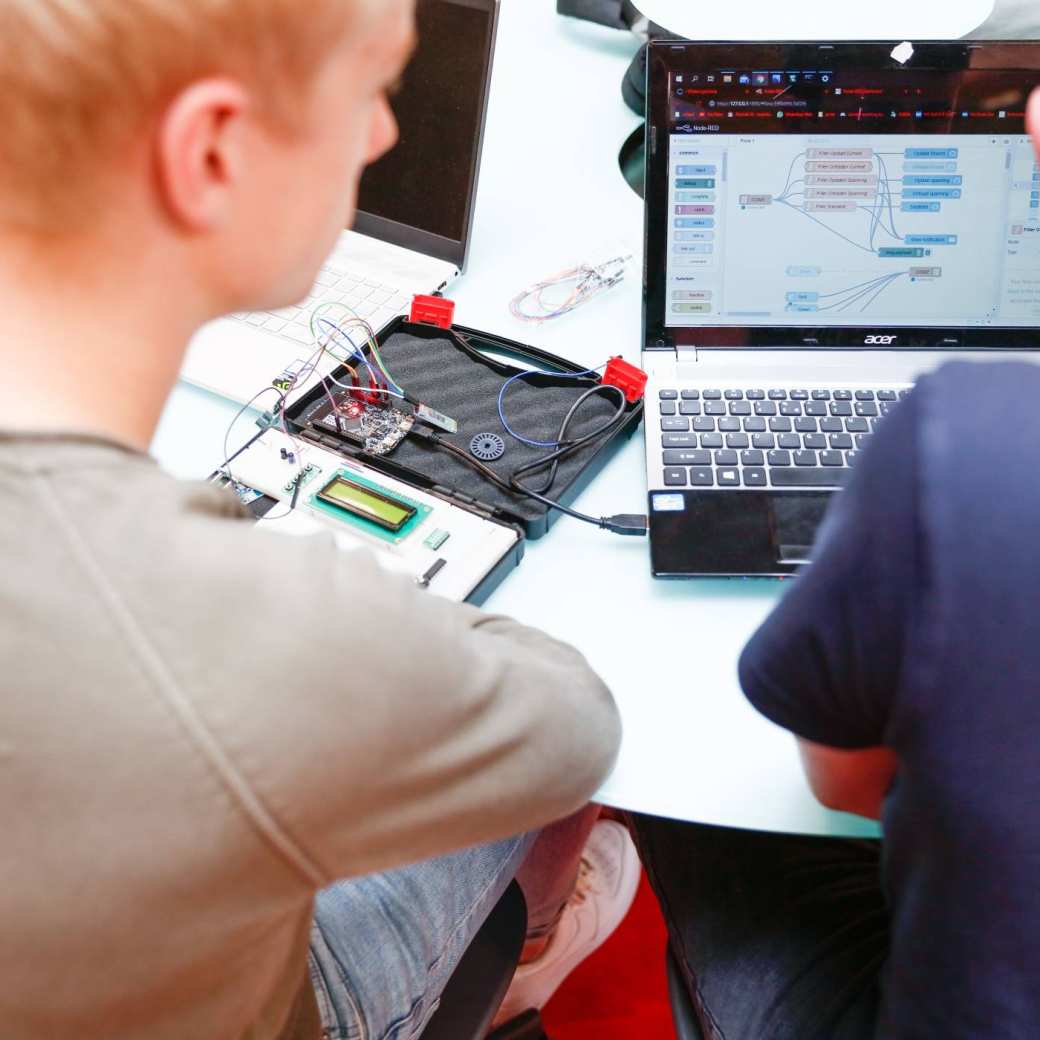 Get an inside view of Embedded Systems Engineering
Meet lecturers & students
Get an inside view of the Embedded Systems Engineering program at HAN. Become a student for a day, join a sample lecture or meet 1:1 with a lecturer or student online. We are currently offering the following activities:
Solid foundation
Subjects in your 1st year include electronics, mathematics, programming and microcontrollers. You also dive into fascinating projects, like developing an autonomous vehicle, a climate controller for an incubator or an interface for a coffee machine.
In your 1st year you take a number of general and specialized subjects.
The academic year runs from September to August. In that time you have 42 weeks of education. The rest of the time you have holidays.
Need some advice? Just contact your study coach. Your study coach can help you find effective ways to study. Support you in making choices about your future career. And guide you in your personal development. 
HAN uses the European Credit Transfer System (ECTS). This system is part of the bachelor-master structure. ECTS credits are a measure of the workload of a degree program.  
TO THE 2ND YEAR? CHECK YOUR STUDY ADVICE! 
At the end of 1st year, you receive study advice. The credits you've earned are an important factor in this. Positive advice means you can move on to the 2nd year. Negative advice means you have to stop. That way you don't waste time on a program that doesn't really suit you. 
Growing independence
In the 2nd year of Embedded Systems Engineering, you start working more independently. Subjects include Software Design with UML, Operating Systems, Data Communication and Security. And you work on innovative team projects.
In your 2nd year you'll follow a range of subjects on embedded hardware engineering and embedded software engineering.
Professional experience
In your 3rd year you take a big step towards becoming a professional embedded systems engineer. Specialize further by working on innovative projects. Like Parallel Robot Design or IoT-enabled Fitness Environment. Also, do an embedded systems engineering internship at a research institute or company.
Subjects in the 3rd year focus on Smart Embedded Systems:
Internet of Things (IoT)
Digital Signal Processing
Artificial Intelligence
Your Embedded Systems Engineering internship gets you ready for the international job market. Where you go? That depends on your interests. You could go to Prodrive. That's an electronic and mechatronic solutions firm. Or maybe Inspiro, a partner in Embedded systems and IoT. Before you start your internship, you get a thorough preparation program.
Experience it for yourself!
Want to discover whether Embedded Systems Engineering at HAN is the right choice for you? Experience it for yourself at the Open Day. Our students and staff look forward to meeting you there!
Graduation year
This is the 4th and final year of your Embedded Systems Engineering degree. First, you choose your minor. This allows you to broaden your knowledge. Or to gain more in-depth knowledge of a subject you're interested in. Second, you choose your graduation assignment. This is where you research an issue for a company or organization.
HAN offers great minors for Embedded Systems Engineering students. You could sign up for Embedded Vision Design and Machine Learning, for example. Or what about broadening your experiences even further? You could study at another university, for example. Or even go abroad. Perhaps you want to continue with the Master in Engineering Systems. Then a pre-master program is a smart option for your minor.
Your final challenge in Embedded Systems Engineering: the graduation assignment. Here you research an issue for a company or organization. Which company? That could be a large international firm, like ASML. Or NXP Semiconductors, which has a development department in the Netherlands. Or a smaller, innovative company in the region. Your research results will help solve an issue they are facing.
After 4 years of study you've earned your Bachelor of Science in Embedded Systems Engineering. Congratulations! The program you've completed is accredited by the Accreditation Organization of the Netherlands and Flanders (NVAO). That means you now have an internationally recognized degree. Ready to join an international company? Or further your studies with a master?
Bachelor of Science in Embedded Systems Engineering
Students talk about the program
Lecturers give an overview of the program
: 
Meet the lecturers
next!
Careers
Find out about job opportunities, experiences of alumni and options for further studies in Embedded Systems Engineering.