Exchange program — Performance Development in Young Athletes
Apply now

The program starts once a year
More information ...

Brochure, helpdesk
The program starts 1 September 2024
Developing talented young athletes into champions. Every coach's dream! How do you do that? How do you identify the champions of the future? And fully develop their talent? Conduct research for a professional sports organization. Help them identify and develop their young members.
Why Performance Development in Young Athletes ?
Classes at Olympic Training Centre Papendal
Most of your classes are held at Papendal, the Olympic Training Centre in Arnhem. So you get to breathe sport while you study!
Conduct research and test athletes
Don't just learn the theory on how to identify and develop talent. Also apply this knowledge while doing research and testing real athletes.
Work with sports organization
The research you do is for a sports organization. Collaborating with them gives you great work experience in the field.
Want to know more about this program?
Home base in Nijmegen, classes in Arnhem
Your home base during this program is Nijmegen. Your student room, the HAN Sport facilities, the HAN School of Sport and Exercise and the introduction are all in Nijmegen. But your classes are in Arnhem: at the Olympic Training Center Papendal. So, you travel to Papendal 2 or 3 times a week. The trip takes 45 minutes (by train and bus) each way and costs about € 14 for a return ticket. Please be aware of these extra costs and traveling time.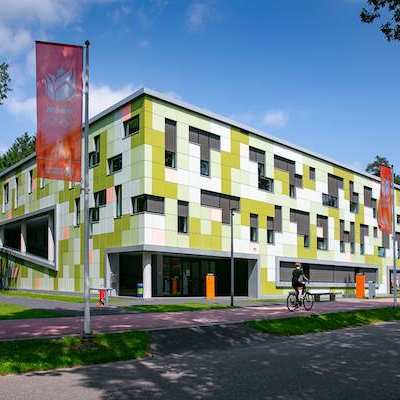 draw-cta-title
Quick facts about the Performance Development in Young Athletes exchange program
School of Sport and Exercise
At the School of Sport and Exercise we train students to become critical, innovative and entrepreneurial professionals. We also offer training and courses for professionals in the field of sports, work and health. So they can apply the latest insights and theories in their work.
Program
What do you learn?

Performance Development in Young Athletes covers a wide range of sports performance-related topics. Exercise physiology, sport psychology and technical and tactical sport skills. You also get the ins and outs of conducting research. Now put your knowledge to the test! Work on solving an actual sport-related problem. Test athletes. Gather the data. Then translate the results into practical advice. 
Why study in the Netherlands?
The Netherlands has a large population of international students so you won't feel alone. In fact, 1 in 10 students is an international student. Why? Because the Netherlands has excellent, affordable higher education. It also has a thriving economy (18th in the world) so there are plenty of job opportunities. What's more, the Dutch are open-minded and almost everyone speaks English.  
Discover the city of Nijmegen
The lovely university town of Nijmegen has a great atmosphere. Just wander through its beautiful old streets and you feel its rich history. Looking for a charming pub or restaurant, a bit of culture or a great night out? Nijmegen has all this and more. Keen on sport or nature? Nijmegen has loads of sports clubs and is surrounded by beautiful forests full of hiking and bicycle trails. 
HAN Nijmegen campus

Heyendaalseweg 141
6525 AJ Nijmegen
Contact us
Got a question? First check our FAQ. Can't find the answer to your question there? Contact us at ASK HAN. We're happy to help!
Next page
Program
What topics do you learn about? Which learning methods are used? And how are you assessed?